Daily Multi-Source Data Extraction & Automation
A small entertainment company manually monitored and interacted with a number of media and social networking sites by spending a number of hours every day. Their employees had to search the company's targeted keywords through specific accounts. When the employee discovered certain keywords and conditions to the posts and media, they would then leave a comment. After doing this manually for a few months, they realized just how inefficient doing it that way was.
Manually searching for terms, leaving comments, and documenting progress meant the company was losing manpower to a series of menial tasks. When they got in touch with us, they asked if there was a way that we could automate their processes.
We got to work and developed a single program called GetAllMedia that acted as a dashboard for these tasks, which included daily downloads of new media matching specific keywords from Facebook, Instagram, YouTube, and SoundCloud. It also deployed comments on the media downloaded, and offered an easy-to-use user interface that included tabs for each source site and various launch parameters like search terms, limits, accounts, and scheduling.
Client problem
Wasted Time and Money, Inefficiency
As this entertainment company primarily focuses on music, they have to be very aware of trends in music and what is happening with any of their artists on any given day. They discovered the way to monitor both of these facets of their industry was through social media posts, so they assigned a team member to keep track of a number of sites and tasks.
For the most part, these tasks included searching various social media and entertainment sites, downloading media, leaving comments from specific accounts, and documenting tasks as they were completed. While easy to complete, these tasks took their team member's time, which resulted in costlier business operations as well as a marked decrease in efficiency.
Decreased Morale - Employee became less efficient over time
Wasted Time - Employee was taken from other tasks to complete this searching and collection
Increased Costs - Overhead rose as employee became inefficient and required more time
Project phases
After the company's initial contact with us, we set a time to discuss in-depth the problems that they wanted to resolve. They informed us of their intended goals and requested that we develop a way they could control all of their various needed tasks from one location. After agreeing on a timeline, the 1datatec team got to work.

Over the next few weeks, we entered the development phase and created several individual routines that handled the company's needed tasks. For example, one program would search certain social media and entertainment sites, then create usable files from those results. Another program would take those search results files and post online comments to the first program's findings. As we worked on these programs, we were in constant contact with the client to fine-tune each program's behavior.

While we worked on programs for the individual tasks, we brought them together to create a single multi-use program. We ended up calling this program GetAllMedia since it proved so useful in finding, cataloging, and acting upon all kinds of media sites.
At the earliest stages of development, 1datatec collects information to best determine which of a business's tasks can be automated and how.
Next, we built a number of sub-programs that could communicate with the GetAllMedia application.
After finalizing the sub-programs, we ran extensive testing to ensure the dashboard worked under all manner kinds of configurations.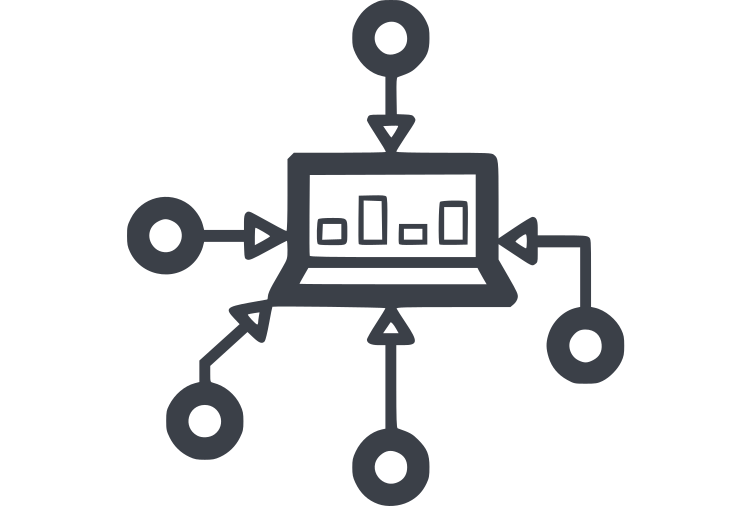 After successfully completing the projects and implementing the new software for a few months, the client experienced numerous benefits. They observed significant time savings, allowing them to allocate their employees to more strategic assignments. This not only increased employee satisfaction but also made their work more meaningful and valuable. Additionally, the scalability of the software enabled the client to process additional data without incurring extra costs. Finally, the extracted data were presented in a unified, transparent, and user-friendly manner, enhancing overall efficiency and ease of use.
Contact us
Contact us now for a free consultation. We're ready when you are.